The Challenge:
Design a new item for the indie game The Binding of Issac.
The item must be drawn in the game's style.
The item should fit in with the game's overall item themes, a list which includes (but is not necessarily limited to):

Dungeons and Dragons (D&D), including the d20 system
Christian biblical references
childhood mishaps
throwbacks to other Edmund McMillen games
horrific creepy crawlies
jokes about Issac's mother

The item should have some thought behind how it would be used and visually expressed in the game after Issac picks it up.
A closeup of the slippers prior to being picked up by Issac.
The Concept:

Gish is a both an alternate boss in The Binding of Issac as well as an indie game in its own right. Gish Slippers are thus an item unlocked after beating Gish, similar to Little Gish.
The Gish Slippers are an equippable item, so once Issac picks them up, Issac will now appear to be wearing the slippers. As Issac runs around levels, black Gish Goo will appear on the floor, lightly damaging any enemies that step in the goo behind him (making it a great item to have while facing pursuing enemies such as the Gemini series of bosses or Lust / Super Lust)! After a few seconds, the goo then recedes and disappears.
Goo only appears while Issac is running, so Issac will not generate a puddle of goo under his feet when standing still. However, the faster Issac runs (including "Speed Up" increases), the more Goo will appear behind him.
Issac is immune to his own Goo.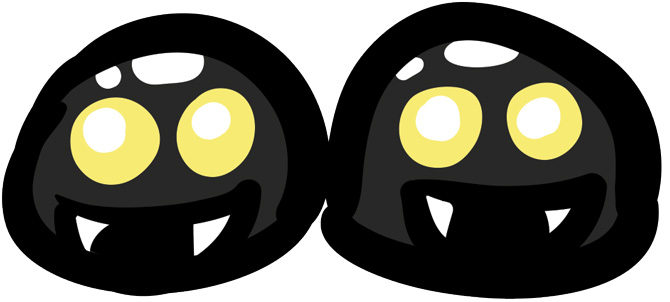 A closeup of the slippers once Issac has picked up the item.